Webinars Bersama Lukman Otunuga, FXTM Research Analyst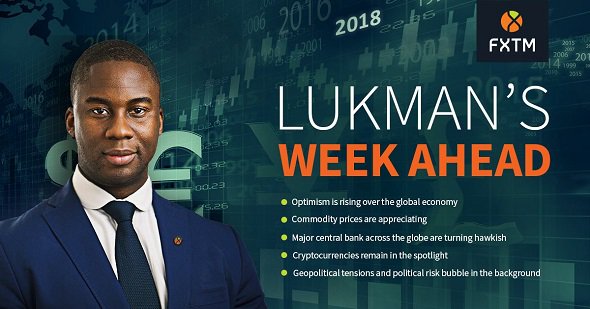 Senin 23 Juli 2018
Waktu 19.00 WIBIkuti webinar bersama Analis Riset FXTM, Lukman Otunuga
. Dapatkan perkembangan terbaru dari pasar terbesar, bagaimana mereka dapat berpotensi mempengaruhi instrumen perdagangan dan melihat peristiwa besar apa yang akan disimpan dalam minggu depan.
Dapatkan wawasan tentang:
- Menumbuhkan optimisme terhadap ekonomi global
- Menghargai harga komoditas
- Sentimen Hawkish di bank-bank sentral utama
- Ketegangan geopolitik dan risiko politik menggelegak di latar belakang
- Cryptocurrencies tetap menjadi sorotan
Tentang Lukman Otunuga, Analis Riset FXTMLukman Otunuga telah menjadi Analis Riset di FXTM sejak tahun 2015.
Para pengikut makroekonomi yang tajam, dengan latar belakang profesional dan akademis yang kuat di bidang keuangan, Lukman berpengalaman dalam analisis fundamental dan teknis. Analisis mendalam tentang pasar mata uang dan komoditas global sering dikutip oleh media internasional terkemuka, termasuk Associated Press (AP), BBC, CNBC, CNN, Marketwatch, NASDAQ, dan The Telegraph. Dia juga pernah muncul di jaringan televisi terbesar di Afrika, NTA 2. Lukman meraih gelar BSc (hons) di bidang Ekonomi dari Universitas Essex, Inggris dan MSc Keuangan dari London School of Business and Finance.
Berpartisipasi dalam Webinar:
- Jika Anda baru mengenal FXTM, gunakan formulir di halaman ini untuk
Register
- Jika Anda sudah memiliki akun MyFXTM, gunakan formulir di halaman ini ke
Login
- Setelah masuk atau mendaftar, klik
"Bergabung"
untuk berpartisipasi dalam Webinar pilihan Anda.
- Periksa kotak masuk email Anda untuk link webinar.
Belum trading bersama broker terdepan?
Bergabunglah Di FXTM
FXTM
Forextimeid
|
Facebook:
ForexTime Indonesia @FXTMid
|
Twitter :
ForexTime Indonesia @FXTMid
✓Traders from 156 countries | ✓13 international awards | ✓16 secure payment methods | ✓25 languages supported